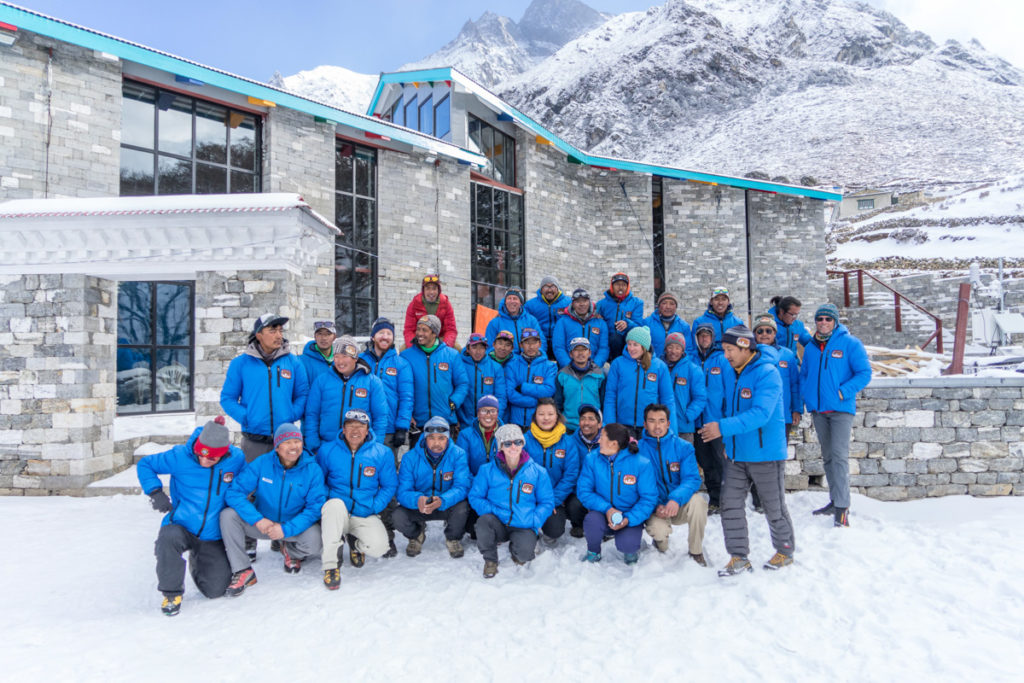 After years of successful instructional courses, our Nepali Board of Directors expressed the desire for an independent building in Phortse village to house the Khumbu Climbing Center. This permanent physical home for the KCC will allow expanded instruction, year round access for both Nepali and visiting climbers, and serve as a community center, library and medical clinic for Phortse. Two local families donated land, the entire village pitched in to dig the foundations, and we dove in head first.
Under the direction of Professor Mike Everts, design work was completed as a collaboration between Nepali stakeholders and graduate students from the Montana State University School of Architecture. Students made multiple visits to Phortse, and the community and KCC Nepali board chose an ambitious design, one that respects the local building culture but also introduces modern materials and building techniques. The KCC headquarters design is earthquake resistant, heated by passive solar gain, and constructed of mostly local materials.
During initial construction phases, Dean Soderberg, one of the student design team, oversaw acquisition and transportation of materials as well as the activities of local masons. He was joined by a visiting team of volunteer builders under Tim Harrington of Boulder, Colorado and another foray with Mike Pajunas of Oregon. We made bit by bit progress for a few years.
More immediate needs were created by the 2014 Everest avalanche when 16 Nepali climbers lost their lives and 2 more were lost that season. Widow relief and family support took priority for two years as the April 2015 earthquake turned our focus to aid.
By Autumn of 2015, we sent a volunteer crew including Justin Griffin, Skiye Detray, Joe Wagner and Michael Auldridge to assess and refocus on the building. In one month they accomplished a great deal but it was clear that we needed ongoing onsite management.
In January 2016, Coloradoan Brandon Lampley, signed on and joined Tenzing Gyalzen from Phortse as our onsite managers. They are directing a large crew of Nepali builders: masons, carpenters, porters, and Phortse residents. Brandon and Tenzing are both experienced Himalayan climbers and builders as well.
Over an eight month work season beginning in March, the ALCF has paid more than 6,000 person days of local labor in 2016, employed as many as 50 Nepalis at once, and more than doubled completion progress. This model of leveraging local labor and building expertise, supported by design and building professionals, is paying off. The building is moving forward, and we're creating good, well-paying jobs for Nepalis.
When complete, the KCC headquarters will not only house technical climbing gear, educational materials, indoor and outdoor training walls, and our office. Flexible space will provide classrooms for our training, and a community meeting place for Phortse. A new medical clinic, library, and caretaker's quarters will support both the KCC and the village.
All aspects of the KCC building will provide the capacity to generate income for the KCC programs to continue to thrive and expand. Many thanks to all who provide support to see this building to completion.